https://savoringtoday.com/2013/02/20/orange-balsamic-glazed-ribs-banish-the-ho-hums/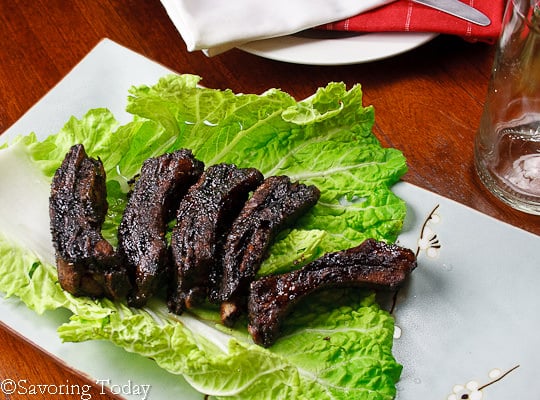 Ingredients
4 pounds baby back pork ribs
For theMarinade:
3 whole oranges zested
1 cup orange juiced
1 cup balsamic vinegar
½ cup palm sugar
1 clove garlic, coarsely chopped
¼ Tsp cayenne
2 Tbsp orange liqueur (such as Cointreau or Grand Marnier)
Kosher salt and freshly ground black pepper
1 1/2 Tbsp fennel seeds
2 Tsp sweet paprika
1 Tsp chilli flakes
1 Tsp ground coriander
1/2 Tsp ground allspice
Baked and gratin
Ingredients
4 medium potatoes to bake
8 potatoes, peeled
250 ml thickened cream
2/3 cup shredded 4 blended cheese from package
Salt and pepper, to season
Side serving
1 pkt salad mix divide on to 4 plates
Drizzle chilli sauce or balsamic orange sauce your choice
Preheat oven to 180°C. Mix garlic, salt, pepper, cayenne, fennel, paprika, chilli flakes, coriander, allspice,orange zest, and sugar; rub evenly over the ribs. Place ribs in a deep dish and pour balsamic, orange liqueur and orange juice over the ribs. cover with cling wrap to marinate in the refrigerator 6-8 hours. Remove ribs from refrigerator about an hour before placing in the oven to bring to just above room temperature. Remove ribs from marinade, place on a rack inside a roasting pan in an even layer.
Pour 1 cup of water in to the bottom of the roasting pan. Then tightly seal the pan with aluminum foil make sure the foil isn't touching the ribs. Bake for 2½ – 3 hours, until ribs are tender. As the ribs bake in the oven, make 4 ramekins potato gratin and bake potatoes.
To make bake potatoes:
Wash 4 medium potatoes and pat dry with paper towels. Using a fork, pierce potatoes in about 6 places. Place directly on oven rack in the center of oven. Bake for 45 to 60 minutes or until tender when a skewer is inserted into the center
To make potato gratin:
Lightly grease 4 ramekins with butter.Thinly slice the potatoes crossways. Arrange a layer of potato slices overlapping slightly. Drizzle over cream and sprinkle with 2 tablespoons shredded 4 blended cheese. Season with salt and pepper. Repeat to make 3 more layers, finishing with a layer of Swiss cheese. Cook until golden: Bake in oven for 1-1 1/4 hours or until the potato is tender and the top is golden. Set aside for 10 minutes to stand. Place salad with chilli sauce on to plates. Serve ribs, with two ways potatoes and salad.