Made by Helen
https://www.food.com/recipe/puff-pastry-salmon-377480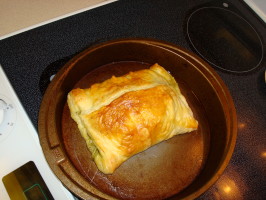 Ingredients
2 salmon fillets (boneless and with skin)
1/8 teaspoon cinnamon powder
1/2 teaspoon sea salt
package puff pastry, thawed
2 tablespoons wine Burgundy
package fresh spinach
1 egg lightly beaten
Method
1
Preheat oven to 190deg.
2
Season salmon fillet with salt, and cinnamon. Divide 1/2 the spinach between 2 sheets of puff pastry and mound in the center. Place salmon on top of spinach. Spoon burgundy over salmon and top with remaining spinach. Moisten edges of puff pastry with an egg lightly beaten, fold to center and seal the seams.
3
Bake for 30-35 minutes until the pastry is puffed and golden.