https://mealdiva.com/recipes/dinner/pork/blueberry-pork-chops-sundaysupper-choosedreams/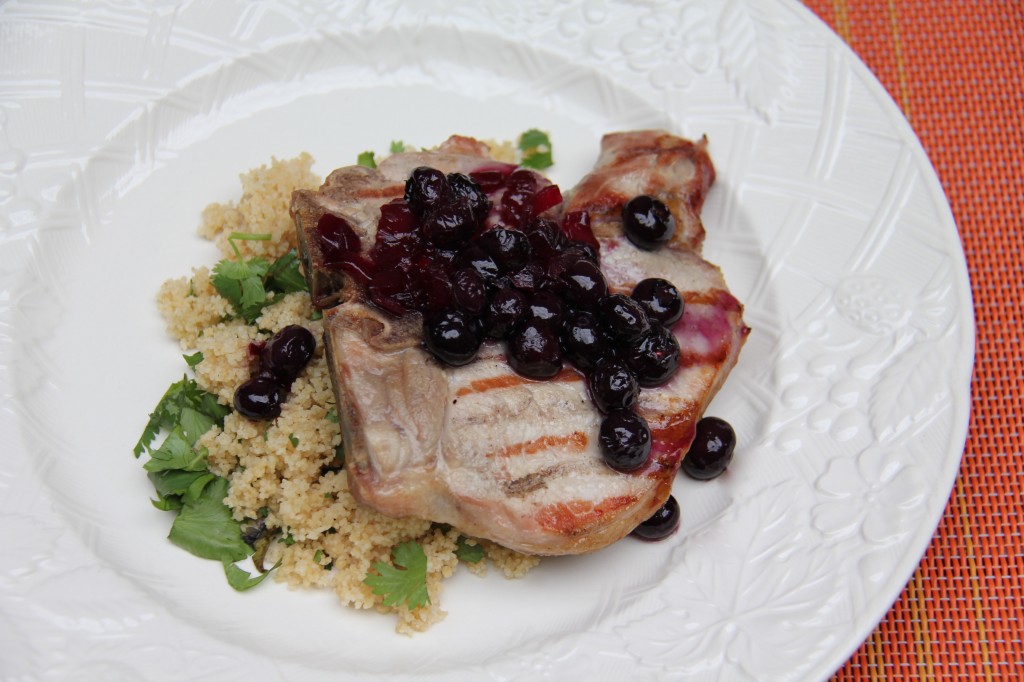 Made by Helen
Blueberry Pork Chops
Ingredients:
3 tbs. extra virgin olive oil, divided
½ red onion, roughly chopped
1 pint blueberries
3 tbs. sugar
1 lemon, zested and juiced
3 fresh thyme sprigs
1 tsp. cinnamon
Salt and pepper to taste
4 bone-in pork chops (1/2 inch thick)
2 -3 bunches brocollini, boiled
1/2 cabbage, stir fry with a bit oil and garlic
Directions:
Brush grill grates with 1 1/2 tbs. olive oil and preheat.
On the stovetop, heat 1 tbs. olive oil in a saucepan on medium-high heat.
Add the onion and sauté for 5 minutes until it's fragrant and softened.
Add the blueberries, sugar, lemon juice, thyme and cinnamon.
Simmer for 7 minutes until the blueberries begin to release their juice and the sauce starts to thicken.
Meanwhile, boiled the brocollini and stir fry cabbage.
Turn the heat to low and remove the thyme sprigs. Keep the sauce warm while you grill the pork chops.
Rub the pork chops with remaining olive oil and sprinkle with salt and pepper.
Grill, turning once for 8-10 minutes and then remove to a platter to let stand for 5 minutes.
Spoon vegetables onto plates then top with pork chop and blueberry compote.